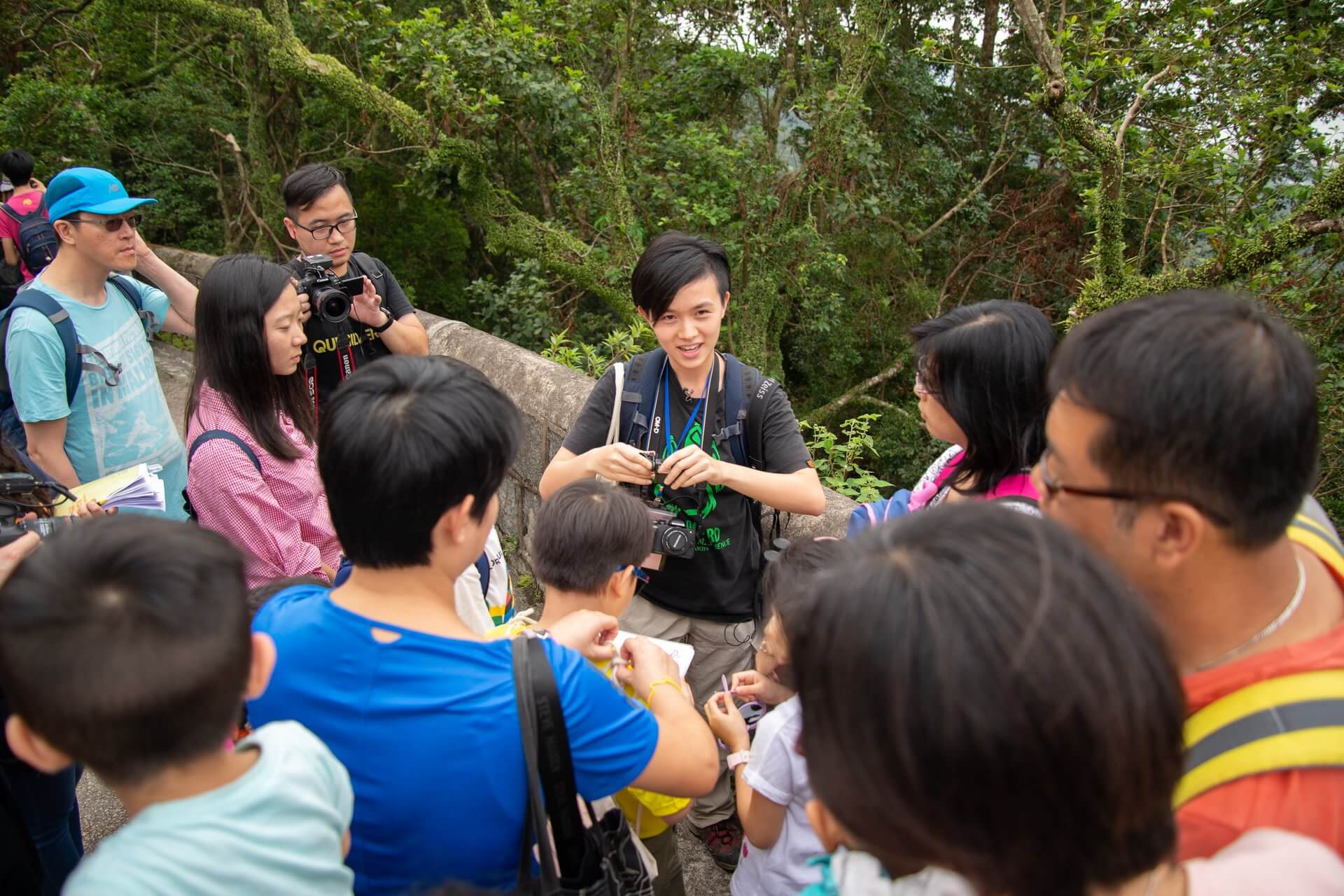 Hong Kong people lives a busy, busy live. No matter adults or kids, everybody faces pressure coming from different aspects. Worries and misgivings accumulate more and more in our hearts. To maintain physical and mental health, we believe nature is the best cure. What about a family day out in the countryside? Away from the hustle and bustle, listening to birdsongs and bug calls. What's better than having fun while learning? Let's feel the nature and get to know the rich biodiversity of Hong Kong together!
In 2018 autumn, we were invited by HKFYG Jockey Club Media to guide families with kids to do the Forest Walk and Learn to know more about the nature side of the community. The activities were conducted in small groups and each group was guided by a professional eco-guide, walking from the Peak to Pok Fu Lam Reservoir. To start with, tutors first introduced the background of Pok Fu Lam Country Park to the participants. An agreement between kids and tutors was also made that the kids had to promise not to leave any traces in the wild and respect the nature. Besides, in order to raise their interest and concentration on outdoor learning, a set of forest learning game cards were specially designed and used. Kids had to finish some tasks instructed on the cards with the guidance of their parents. They would learn forest ecology through the game cards and use different senses to observe and appreciate the wildlife.
Different from outings generally arranged, we encouraged participants to slow down and use their senses and curiosity to meet everything from the nature. During the 3-hour journey, they did not rush down the hill like they always did, but stopped and competed to be the first to use a binocular to watch butterflies and birds that flew by. One of the small kids even found some Balanophora harlandii by himself, a tiny plant that loves to hide under the shrubs. Amazing observation!
Although they looked exhausted when we reached the end point, we could tell from the smiles shown on their faces that they no longer afraid of the nature but would actively rediscover the wildlife around them.
We hope to see you in the Forest Walk and Learn. If anyone would like to book a tour in a group, please feel free to contact us!