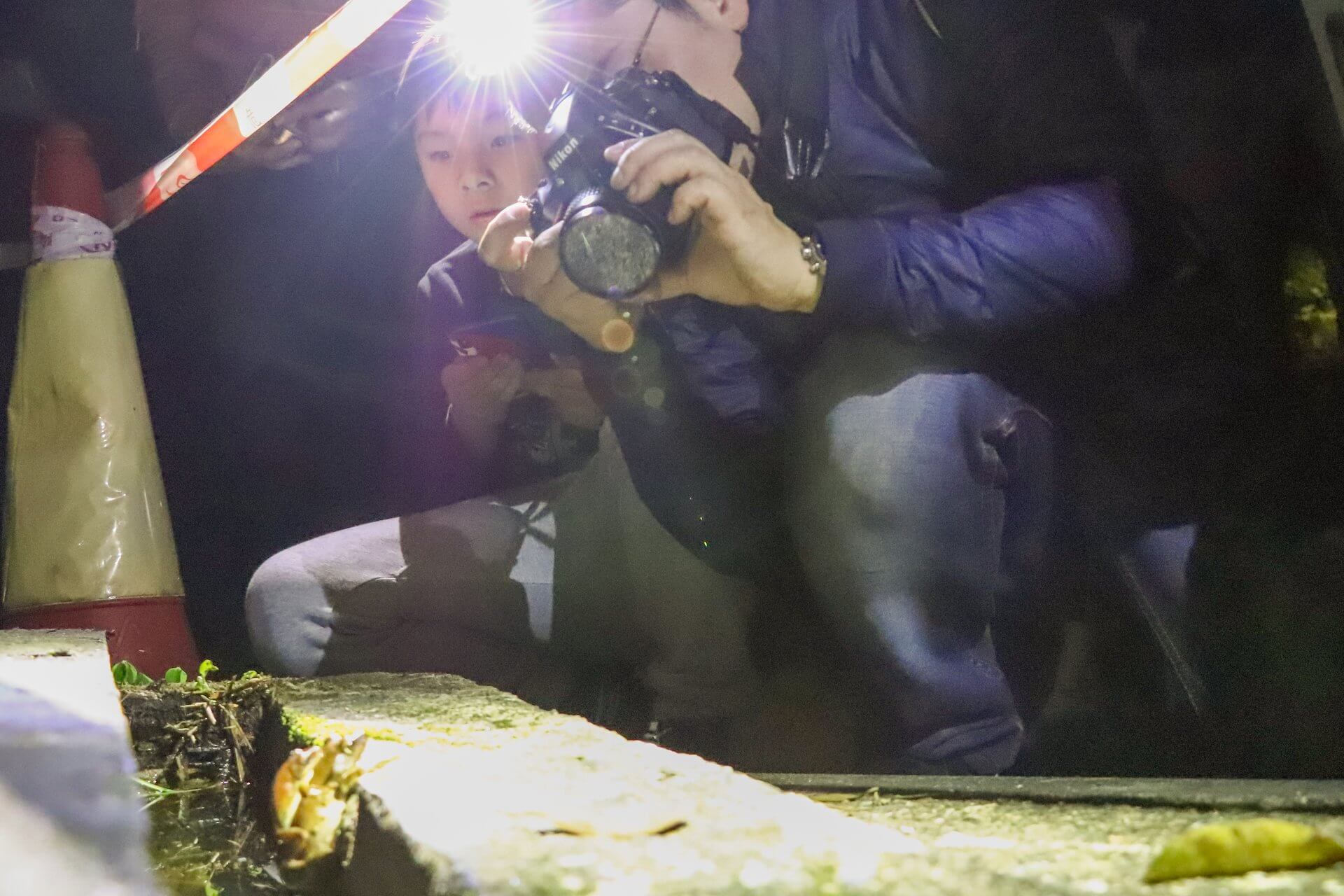 Invited by Light Be - Light Housing, a local social housing enterprise, we specially designed a night safari suitable for parent-child families from Light Housing. They were guided by us to explore the secret side of the nature in Lau Shui Heung at night. The activity was reptiles and amphibians focused and the content and route were set according to the age range of the participants. In this way, we could make sure everyone could handle it and have fun even you are a young kid. Interesting fun facts and knowledge were also provided so adults can learn and enjoy the activity together.
The activity was guided by local professional environmental education tutors. It started with simple introduction to Hong Kong biodiversity and let participants to build up a basic understanding for this activity. During the interactive activities, tutors would observe and got to know the background of each participant and what particular part of nature they would be interested in. The content of night safari could be adjusted according to tutors' observation to achieve the best learning effect. Participants were guided by tutors in small teams and they were taught the special technique of searching for reptiles and amphibians. Fascinating facts of each wildlife they found would be introduced afterwards. Besides, participants were encouraged to use other senses other than just their eyes so as to emerge themselves in the nature, for example the symphony performed by insects and frogs. As the connection between participants and nature grew stronger, the more they would learn how to appreciate, respect and willing to protect the nature.
Apart from night safari, we also provided bird-watching activities in Nam Sang Wai for families from Light Housing. The activities were linked together in one story and the kids were asked to help the wildlife in Nam Sang Wai. Upholding our standard as always, our activities were mainly outdoor focused. The effectiveness of learning would be greatly enhanced when they learn in the environment. Through simple interactive activity to establish the basic understanding of the activity, participants started their exploration in Nam Sang Wai. In order to avoid too many people gathering in one place, the activities were carried out in small teams which also easier for participants to observe the wildlife found.
Light Housing and all the families joined, thank you for your proactive participation. Hope to see you next time!