Introduction to the Programme
The "ECF Insect Pollination Ecology Education Programme" is an environmental education and community engagement programme funded by the Environment and Conservation Fund (ECF) and the Environmental Campaign Committee (ECC). With the theme of common insect pollinators in Hong Kong, the programme aims to educate and promote insect ecology to the public, to eliminate the public's inexplicable fear of insects through diversified educational activities, outdoor field trips and "Insect Hotel".
By popularizing the "Insect Hotel", we could provide more nursery places for insect pollinators. Also, promote the importance of insect pollinators ecosystem services in Hong Kong. The programme is community-based, encourages the public to conduct long-term observation and surveys, collects ecological baseline data of insect pollinators in Hong Kong. As a result, the programme enriches the local ecology research with comprehensive data.
Programme Features
Insect pollinators become a new entry point for the public to re-recognize the importance of insect pollinators in Hong Kong, and introducing the concept of ecosystem services
In form of competitions, secondary school students will be trained to conduct "Insect Hotel" experiments, cultivates self-directed learning skills to learn about insect ecology proactively
Program is composed of comprehensive and diversified learning activities. In addition to indoor theory and outdoor learning, students are required to build their own "Insect Hotels". Providing more habitats for insect pollinators, enriching urban biodiversity
Tertiary students are trained up to become tutors so as to lead the public for citizen science surveys and assist in early childhood eco-education activities. Thus, students can apply the theories while consolidating knowledge, learning through teaching others
Promote effective environmental education to early childhood education, to cultivate the mindset of coexisting with insects from an early age through on-site early childhood educational activities
Conducting on community-basis, insect pollinators surveys and public tours assist in enhancing the common understanding of insect pollinators, eliminating the fear of insects. The survey will collect mass ecological baseline information of Hong Kong insect pollinators, contributing to biodiversity research in Hong Kong directly
Publish reference book to encourage Hong Kong primary and secondary schools to apply conservation concepts of "Insect Hotel" in teaching and daily life, to popularizing ecological conservation and environmental education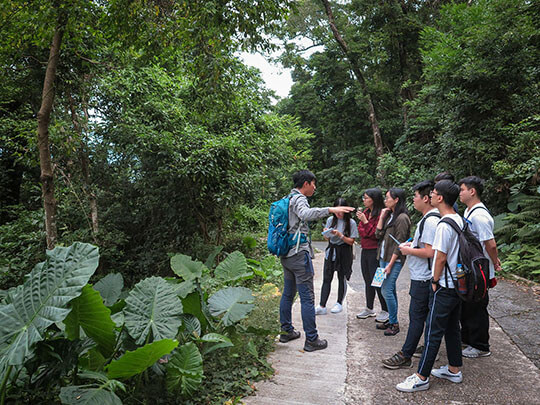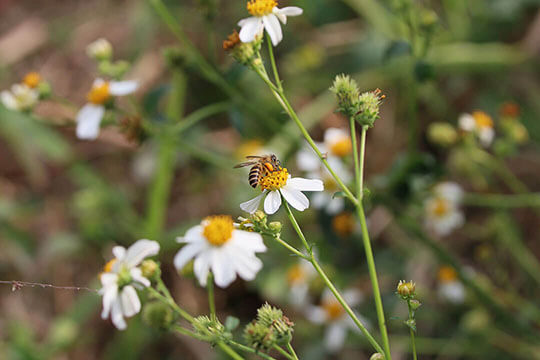 Programme Structure
"EFC Insect Pollination Ecology Education Programme" was officially launched in December 2021 for a period of two years, and is divided into seven parts:
Where "Bugs" come from - Insect Pollinator Tour for Public
Hong Kong Insect Hotel Manual
Programme Achievements Release cum Awards' Ceremony of Insect Hotel Design Competition for Secondary Schools

Insect Hotel Design Competition for Secondary Schools
First Competition Using "Insect Hotel" As the Main Theme in Hong Kong
In addition to providing comprehensive and diversified learning opportunities, the Insect Hotel Design Competition for Secondary Schools trains and leads secondary school students to conduct "Insect Hotel" experiments in the form of competitions. Competitions enhance students' collaboration skills and engagement level, while cultivating students' self-directed learning skills, via observing insect ecology proactively and understanding ecological knowledge.
The five-day training will be instructed by local experts and professional teams, teaching ecological knowledge and searching skills of insect pollinators, as well as technical training in basic carpentry. Students will make their own "Insect Hotel" and will experience providing habitats for urban insects, and enriching urban biodiversity. Though the "Insect Hotel" experiment, students will learn experimental correction, data integration and analysis, and understand the practical challenges of scientific research.
The Secondary School Insect Hotel Design Competition will recruit 10 teams, each consisting of 3 to 4 students and 1 teacher. Students will participate in five training days, including indoor teaching activities, outdoor field trips and the production of the "Insect Hotel".
Tutor Training for Tertiary Students
Environmental Education X Early Childhood Education - Comprehensive College Students Training
There are two rounds of tutor training for tertiary students. Each round of training consists of two training days and an overnight training camp. The training will be led by local experts, teaching the ecological knowledge and investigation skills of pollinators in person. Also, a current and experienced kindergarten teacher will explain the basics of early childhood education. Through a variety of interactive activities and outdoor field trips, participants will be well equipped as tutors!
After receiving a series of ecological and educational trainings, tertiary students will personally lead the citizen science of insect pollinators survey, and take parts in kindergartens workshop. Tertiary students will apply what they have learned in the training to achieve teaching-and-learning, consolidate the knowledge, as well as impart relevant skills and knowledge to the public, gain first-hand experience of conservation work.
The tutors will undergo four days of training, content includes:
Basics of Environmental Education and Early Childhood Education
Observation and identification skills of common insect pollinators
Citizen Science Survey
Creation and conservation application of "Insect Hotel"
Basic ecology and diversity of insect pollinators in Hong Kong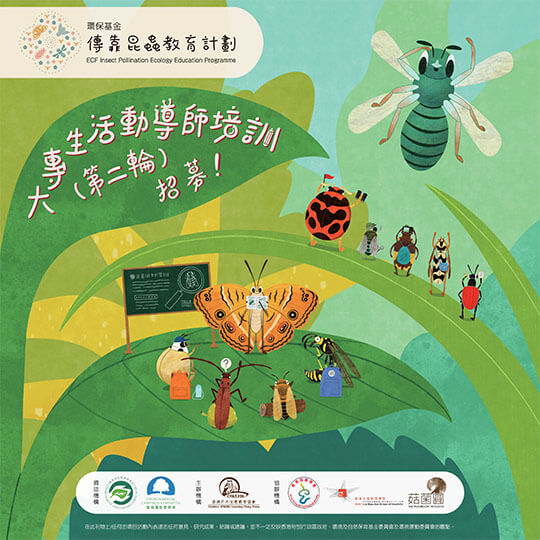 Insects' Moving Castle - Insect Discovery Workshop for Kindergartens
The main theme of Insect Discovery Workshop for Kindergartens is common insects. Through interactive lectures and interesting stories to describe the habits of insects. It also introduces the role of insects in ecology and society, to cultivate children with the mindset of coexistence with insects. The workshop is a 1-day activity, targeting kindergarten students who aged 2 - 5, they will make a simple insect hotel and place it in the school garden. After the activity, they can observe wild insects through the insect hotel to enhance their interest in insects.
Quota: Two rounds, 10 activities each, around 30 students per activities
Due to the recent pandemic situation and latest disease prevention measures, the competition will be postponed until further notice through this webpage, Facebook & Instagram. Stay tuned!
Citizen Science – Hong Kong Insect Pollinator Survey
Citizen science refers to scientific research which is conducted by the public. Regardless of the background of investigators, they can assist in the collection and analysis of scientific data and the exploration of scientific hypothesis, allowing the citizen scientists to experience scientific research and learn relevant knowledge. At the same time, scientists can collect wider and larger amounts of scientific data with the help of citizens.
Each round of citizen science surveys has different topic of ecological lectures!
There are three rounds of the Hong Kong Insect Pollinator Survey. Each round has a specified research direction, which enriches the research project and comprehends the insect pollinator ecology. Each round includes a 1-day training day, which local experts will teach basic ecological knowledge and survey skills of pollinators.
Enrolment period: April to May (1st round), 2022; July to August (2nd round), 2022; January to February, 2023 (3rd round)
Activity Period: June to August (1st round), 2022; September to November (2nd round), 2022; March to May, 2023 (3rd round)
Activity Quota: Three rounds; 12 teams and around 48 people per round